Do you have transparency into how much money you're making from insurance payments? If you aren't sure where to start with revenue management, let us highlight the 5 most useful insurance reports you should generate.
Insurance reports analyze your historical billing and claims data to search for gaps, errors, and mistakes. Read on to see how insurance reports can stop you from missing out on potential revenue.
In our latest ebook, OD Growth Guide: 5 Essential Insurance Reports, we explain how big data applies to your optometry practice's existing revenue stream and potential for future growth.
Don't worry if you're a novice when it comes to data analysis and reporting, our ebook tells you everything you need to know to set you up for success. With each report, we outline what is being analyzed, its value to your practice, red flags to look out for, and how to avoid any errors.
Here's a sneak peek at the reports: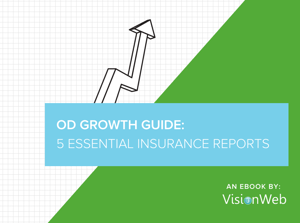 1. Denial Rate by Service Line
2. Denial Count by Adjustment Code
3. Processing Time Analysis
4. Utilization Report
5. Patient Responsibility
Generate these 5 essential insurance reports with our free ebook.